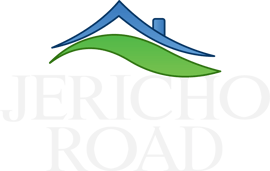 Reintegrating into society can be a challenging journey for individuals recovering from addiction and substance use disorders. They may face gaps in their resumes, struggles with daily routines, potential criminal records, and a need for direction. Our Leadership Development program plays a pivotal role in bridging this gap and providing our graduates with a pathway to success and dignity.
One of the cornerstones of our program is the provision of paid internships with various community partners. This initiative goes beyond providing valuable work experience; it offers the dignity of paid employment. We recognize that having a job, receiving a paycheck, and contributing to one's own livelihood are essential elements of regaining one's sense of self-worth.
At Jericho Road, we believe in offering our program participants the chance to move forward with dignity and opportunity. By imparting valuable skills and connecting them with paid internships, we aim to break down the barriers that often hinder the reintegration process.
Building Essential Skills
In addition to providing paid internships, our program equips participants with vital life skills to enhance their ability to thrive in society. These skills include:
Resume Writing: We assist individuals in creating compelling resumes that reflect their unique strengths and experiences, helping them stand out in the job market.
Workspace Skills: Our program offers guidance on effective job search strategies, work ethic, and working with others, making it easier for our participants to find meaningful employment opportunities.
Budgeting: Financial literacy is crucial for achieving stability. We provide tools and resources to help individuals manage their finances, make informed decisions, and plan for their future.
Time Management: Learning to manage one's time effectively is key to maintaining a stable routine, and our program focuses on imparting these essential skills.