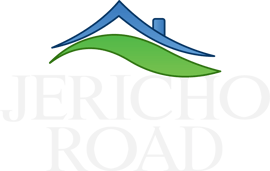 Website
Thanks for visiting Jericho Road on the web, we're glad you're here!
This website is owned and operated by Jericho Road Ministries. It contains information, media and resources relating to our programs, residents, clients, employees, and volunteers. As such, the privacy of our community and viewers like yourself is important to us. By using this website, you have indicated your consent and agreement to the policies and practices herein.
Jericho Road employees are responsible to ensure the security of all information entrusted to them while providing services to residents, clients, and volunteers. All information is treated with an appropriate level of confidentiality and is protected from loss or unauthorized release. Individual consent is obtained before any information is released, and is never sold or given to any third-parties unless prior arrangements are made.
Donors
Jericho Road is committed to protecting the privacy of our employees, volunteers and donors. We hold ourselves accountable to the personal information shared with us in order to maintain integrity and trust among those in our community. Our community includes all those associated with Jericho Road Ministries – clients, residents, alumni, employees, volunteers, supporters, and donors.
Personal information is defined by any information that can be used to identify, contact or distinguish a specific individual. This information can include an individual's opinions or beliefs, as well as facts about, or related to, the individual. Publicly available information such as business information, names, addresses and telephone numbers available in directories, are not considered personal information.
Jericho Road collects personal information such as names, titles, contact information, addresses and donation history from current, past, and potential donors. We use this information for the purpose of maintaining personal relationships between Jericho Road and our community by receipting donations, providing information about activities and events hosted by Jericho Road, requesting support and providing donor recognition.
We may also collect information donors and volunteers provide to us about their interests or other personal facts in order to assist them in their philanthropic goals.
All personal information collected by Jericho Road Ministries is kept in confidence and is only disclosed to meet the purposes mentioned in the above paragraphs.
All staff are monitored and bound by our employee Code of Conduct, which states that they must keep the privacy and discretion of all information shared during and after the course of their employment.
Password protocols, as well as physical lock and key are used to protect the personal information received electronically or physically. We do not buy, sell, rent or trade any information under any circumstance.
Information is kept only as long as necessary to achieve original purpose of collection, or in accordance with provincial legislation.
Individuals can address concerns or request of their personal information by sending a written notice to:
Jericho Road Ministries
2089 Walkley Road
Ottawa, ON, K1G 3G7
APPROVED - APRIL 2021