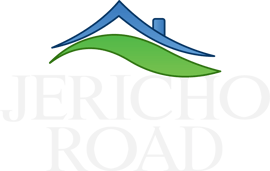 At our core, we believe in the transformative power of peer-mentoring, staff with lived experience, recovery meetings, and community engagement. Our mission is to build a community of inclusion that extends well beyond individuals on their journey to recovery, embracing their families, friends, and the broader society. We are dedicated to creating a nurturing environment where every person can find support, regain their sense of self-worth, and contribute to a brighter future after the isolating effects of addiction.
The story of Jericho Road
In the early 1990s, our founder, Ray Desmarais, initiated the Jericho Road Coffeehouse, a weekly drop-in center catering to marginalized individuals. This marked the genesis of our commitment to serving those in need.
By 1997, Jericho Road had opened its first home for men dealing with mental health issues. Over the years, we continued to expand, providing additional homes to offer vital support to men seeking assistance. Around 2005, we introduced the Discipleship House, or D-House for short. This 9-month residential treatment program was our response to the widespread addiction epidemic.
At Jericho Road, we firmly believe that the antidote to addiction is connection. Recognizing that individuals struggling with substance use and concurrent disorders often lead isolated lives, we actively foster a sense of community. Our approach involves family-style meals, shared responsibilities, and a program rooted in 12-step peer-supported principles. These principles empower residents to develop a sense of belonging and shared responsibility for their community and their recovery.
In 2018, Jericho Road introduced the Leadership Development program. This innovative program allows graduates of the Discipleship House to assume leadership roles within our community, gaining valuable workplace and life experience.
Throughout the history of the Discipleship House, we've witnessed the far-reaching impact of addiction as a family disease. In early 2020, we responded to the growing need in our community by initiating our Family Support meetings. These weekly sessions offer a safe and anonymous space for the family and friends of individuals with substance use disorders.
The year 2020, marked by the COVID-19 pandemic, highlighted the urgent need for program expansion to address the decline in available recovery options. While expanding our residential program had always been a consideration, the pandemic accelerated our plans. The isolation and lockdowns disproportionately affected vulnerable communities, leading to an increase in substance use, overdoses, suicides, and substance-related deaths.
In response to the continued social isolation brought on by COVID-19, we expanded the Discipleship House from 9 to 14 beds. We also bolstered our online presence and created platforms for individuals to connect virtually, such as The Recovery Connection Podcast and its precursor, 3 O'Clock Talks.
Our residents are provided with individual bedrooms to respect their independence and privacy, while our common areas encourage connection through conversations, group activities, and much-needed relaxation.
Since its inception in 1993, Jericho Road has consistently offered safe, substance-free, and affordable treatment options to men grappling with addiction and concurrent disorders. Our commitment extends to both past and present residents, who are welcomed into our extended family. We aim to provide continued support and expand our impact within the broader community. We assist individuals in building support networks through regular 12-step and recovery meetings, sponsors, and connections to faith communities.
Currently, Jericho Road boasts 14 beds in the D-House addiction treatment program and 19 beds in our continuing care homes, resulting in a total capacity of 33 beds. On average, 21 men participate in the D-House each year. Many of the residents who complete the program choose to continue their journey at one of our continuing care homes, where they receive ongoing support as they grow in their relationship with God, themselves, and their community.